Weddings
Dreaming Marriage...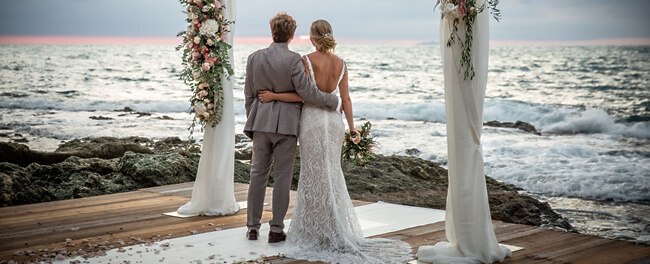 Getting married at the sunset above the sea smelling maritime pine fragrance.



Our beautiful location has got two big hall for your wedding day, both with a fabulous view over the sea.
From the terrace you can admire wonderful and romantic panoramas with your guests, and be delighted by an incredibile view on the Elba Island.
It is possible to enjoy our rich starters buffet near the swimming pool.
Villa Parisi is located in the middle of a beautiful garden, which brings you directly to the sea.
You can also choose our platform on the sea to cut your wedding cake. We've got also a big car park.
In the evening we use our suggestive lights to enlighten the entire place.
It is possible to have a demonstration dinner to know our kitchen and to decide together which will be your menu. We prepare everything fresh at the moment.
There are also 21 rooms for you guests, to let the celebration going on even more days. There's a very pretty church close to the Villa, for religious ceremony and also a municipal castle for the civil ceremony. Castello Pasquini, click here